My Elder's Quorum President challenged a handful of us to read the scriptures every day this week and post our thoughts to the Elder's Quorum Blog. Here is my entry:
My thoughts come from the talk by Elder Uchtdorf in the April 2011 Priesthood Conference entitled, "Your Potential, Your Privilege".
I was actually impressed to listen to this talk in the weeks leading up to this challenge. I have listened to Elder Uchtdorf's talk probably 5-6 times in the past few weeks. It is inspiring. As I prepared for this blog post I wondered why this talk continued to return to my mind? I listened to it again tonight and asked the Spirit to guide my thoughts. I soon determined that my "do it" switch has been set to "later" for the last couple months, if not years. I am not living up to my potential as a holder of the Priesthood.
"The words written in the scriptures and spoken in general conference are for us to "liken them unto [ourselves]," not for reading or hearing only. Too often we attend meetings and nod our heads; we might even smile knowingly and agree. We jot down some action points, and we may say to ourselves, "That is something I will do." But somewhere between the hearing, the writing of a reminder on our smartphone, and the actual doing, our "do it" switch gets rotated to the "later" position. Brethren, let's make sure to set our "do it" switch always to the "now" position!"
The Bishopric visited our home almost 3 years ago and Bishop Barker was inspired to have us "Do More" in the ward and in our lives. This photo hangs in our hall way to remind us to follow that counsel.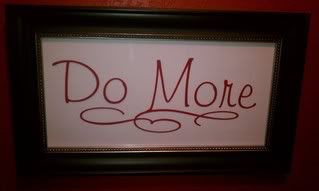 With all of these reminders, why am I not doing the things I need to do on a daily basis? I need to DO MORE! President Uchtdorf answered my question by challenging us to "study the owner's manual" by rereading sections 20, 84, 107, and 121 of the Doctrine and Covenants. These scriptures outline the Priesthood, A Priesthood of Service, A Priesthood of Humility.
"Brethren, we are faced with a choice. We can be satisfied with a diminished experience as priesthood bearers and settle for experiences far below our privileges. Or we can partake of an abundant feast of spiritual opportunity and universal priesthood blessings." President Uchtdorf
The Priesthood is an action word. It is my only hope that I can take Bishop Barker and President Uchtdorf's counsel and live up to my potential to DO MORE.